OUTSIDE CLEANING SERVICES – YOUR LOCAL EXPERT
Having worked in the building industry for over 30 years, I decided to change from working for other people and companies with whom I had become disillusioned.
I started out as a hod carrier/ labourer in my early days and then progressed to bricklaying and roofing. After a short period as a glass cutter, I then became a lightning protection engineer/steeplejack – and remained in that industry for 21 years.
Hours and hours of research later I decided that I could provide a niche service for cleaning and maintenance; of not only private houses but also places of business.
Being fully qualified to work at any height – I offer access to places more difficult to clean and maintain, without costing the small fortunes the bigger companies are charging – offering a more personal, friendly and flexible service.
Most of my work is from recommendations which are the only way to succeed. We make sure the customer is 100% happy with the standard of work given, and providing that level of customer satisfaction is something that I always have and still do pride myself on.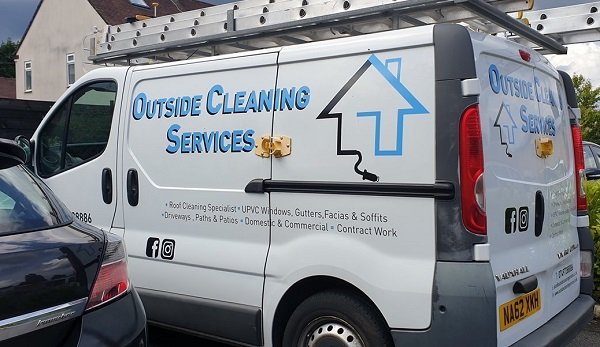 Received an amazing service from Peter, he made all exterior of my house sparkle and looking brand new. Very professional and friendly person. Highly recommended
A big thank you to Peter for a truly excellent job; his enthusiasm and work ethic is exceptional. The end result is brilliant, highly recommended.
Absolutely delighted with my roof now very hard working and very tidy guys. Can really recommend them to get your roof clean
La Academia Language Services
2020-05-27
I had Outside Cleaning Services clean my gutters and patio/drive this morning - I am really impressed!! The guys turned up on time, no hassle and did a wonderful job with a smile. I can't recommend them enough and will use them again in the future. Andrea from Gatley
Great services, high quality and affordable prices to high standards.
Cleaning Contractors NI
2020-03-15
Outside Cleaning Services
2019-07-15
Outside Cleaning Services covers Manchester/Cheshire, specializing in all aspects of exterior cleaning, including roofs,driveways, gutters, fascias amongst others. Exterior cleaning is all we do, and we do it well. We have the experience and equipment to do this work safely, efficiently, and at reasonable cost. We're properly insured for this work and because every job and customer is different, we offer multiple cleaning options to best address YOUR needs. If the outside of your building needs some attention, whether your place of business or your home, please contact us. We provide prompt, friendly service, and we'll take the time to answer your questions. You'll benefit from our years of experience, our low-overhead prices, and our high level of service and attention. We look forward to hearing from you.
Alan came today to clear the gutters and clean the UPVC frames and doors. They are quite old so I wasn't sure how much could be done with them.

They are now gleaming, I am delighted! I would recommend him without hesitation.
I highly recommend them: excellent work standards & customer service.

Fantastic service!